ESPN has another potential image problem on its hands. Only two days after baseball analyst Curt Schilling ripped Democratic presidential contender Hillary Clinton, NFL analyst Mike Ditka blasted President Barack Obama as the "worst" president ever. He also said he'd probably vote for Donald Trump for president.
The longtime analyst on ESPN's "Sunday NFL Countdown" made the comments Thursday during an appearance on the Bernie and Sid morning radio show on WABC-AM in New York. When asked about Obama by hosts Sid Rosenberg and Bernard McGuirk, Iron Mike unloaded on the commander in chief.
"Obama is the worst president we've ever had," said the Pro Football Hall of Famer, who coached the 1985 Bears to a victory in Super Bowl XX.
Ditka believes Obama is a nice enough guy but that his leadership skills are "disgusting." If Election Day were tomorrow, he said, he'd vote for the tough-talking Trump over Clinton or Republican rivals such as Ted Cruz, Marco Rubio and John Kasich.
"Barack Obama's a fine man. I mean, he's pleasant. He would be great to play golf with. He's not a leader. This country needs leadership. It needs direction. It needs somebody that steps up front. We need somebody like Ronald Reagan," Ditka said.
"Every once in a while you're going to get punched in the chops. But you keep going forward. That's all there is to it," he added. "You know it's not always going to be a perfect situation, but to do what he does, there's no leadership there. I think that becomes very disgusting to me."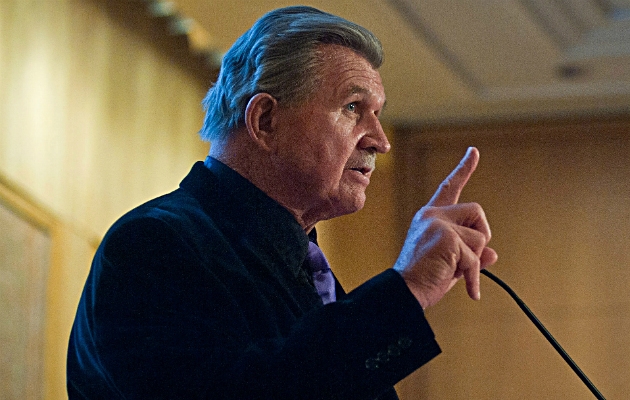 Mike Ditka (Getty Images)
(Ditka previously mused that his "biggest mistake" was not running against Obama for a U.S. Senate seat in 2004, which might have derailed Obama's quest for the presidency.)
During Thursday's interview, the old coach didn't have many positive things to say about Clinton, either.
When the hosts played a clip of Clinton declaring Republicans want to take America back to the "Jim Crow past," Ditka dismissed it as a "filthy statement" that could make you "throw up."
Ditka came thisclose to endorsing Trump — a la NASCAR big boss Brian France .
The country is "devoid of leadership right now," Ditka said. Love him or hate him, he added, the straight-talking Trump is better than Clinton or the other Republicans.
"If I were to vote tomorrow, I'd probably vote for Trump," he said.
Switching back to sports, Ditka predicted Peyton Manning will play next season because the lure of defending his Super Bowl title will be too great to resist. "I think he will come back," Ditka said.
Ditka added that Panthers QB Cam Newton, who lost to Manning's Broncos in Super Bowl 50, needs to "mature" into a leader who's able to handle winning and losing.
ESPN declined to comment on Ditka's statements.
The network is scrambling to address comments Schilling made Tuesday to a Kansas City radio station . He said Clinton should be "buried under a jail somewhere" for her handling of classified emails as secretary of state. The network said Wednesday it was looking into what Schilling said.
Other ESPN talent, such as Mike Lupica, have trumpeted liberal politicians and positions in the past. In fact, things have gotten so out of hand with on-air talent wearing their politics on their sleeves that the network issued revised guidelines asking them to steer clear of politics during the 2016 election season.
"We should refrain from political editorializing, personal attacks or 'drive-by' comments regarding the candidates and their campaigns. Approved commentaries on sports-specific issues, or seeking responses from candidates on relevant news issues, are appropriate. However, perceived endorsements should be avoided," the guidelines read in part.
Guess Ditka and Schilling didn't get that memo.
Source: Sporting News