Wow is all I can say, Earhustle411 had just wished this amazing actress a very happy birthday and God saw fit to call her home.  Ann B. Davis most notably known as Alice of the Brady Bunch TV series has made her transition.  Most of us grew up with her and now we are witnessing her rejoining some of her cast mates in heaven.  Read the story as reported by CNN
Ann B. Davis, Alice on 'Brady Bunch,' dies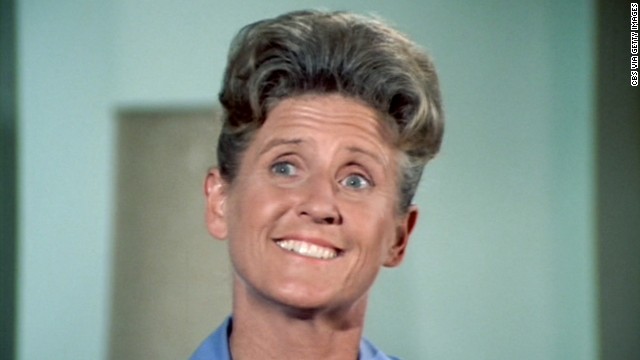 Bra
(CNN) — Actress Ann B. Davis, an American television legend who held "The Brady Bunch" together in her role as housekeeper Alice Nelson, died Sunday. She was 88.
Bishop William Frey, a close friend of Davis, told CNN the actress died at a hospital in San Antonio, Texas, where she was treated after hitting her head in a fall. The actress suffered a subdural hematoma, he said, and never regained consciousness.
Appearing in her trademark light blue maid's uniform with a white apron, Alice anchored "The Brady Bunch" with her cheerful attitude and witty one-liners.
As the sitcom's famous theme song played, showing each member of the Brady family's face in a grid, the devoted housekeeper was always smiling in the center.
In a 2004 interview with the Archive of American Television, Davis described how she created the iconic character.
"I made up a background story. I did have a twin sister, so I used that as a basis. … I cared very much about this family. It was my family. It was as close to my family as Alice would ever get. I would have died for any single one of them at any point," she said. "You know, they wrote me such gorgeous things to do, as the intermediary between the kids and the adults, and between the boys and the girls. And they gave me funny things to do."
In real life, Davis said she wasn't quite as handy around the house as her character.
"I basically don't do that well with children, although my sister says I'm a great aunt," she told People magazine in 1992, adding that she hated to cook.
"When it's my turn in the house," she told the magazine, "we just eat out."
Even so, Davis penned "Alice's Brady Bunch Cookbook" in 1994, featuring recipes from the show and anecdotes from life on the set.
Actress Florence Henderson, who played mom Carol Brady on the sitcom, said she was devastated to learn of Davis' death Sunday.
"I am so shocked and sad to learn that my dear friend and colleague, Ann B Davis, died today," Henderson said in a Facebook post. "I spoke with her a couple of months ago and she was doing great!"
Davis had planned to study medicine at the University of Michigan but caught the acting bug from her brother, who was a dancer in the national company of "Oklahoma," according to a biography of the actress on IMDb.com.
Her big break in Hollywood came when she won the role of Charmaine "Schultzy" Schultz, the secretary on the 1950s sitcom "The Bob Cummings Show," IMDb said.
It was that character that won her two Emmy awards, two additional nominations for best supporting actress and a star on the Hollywood Walk of Fame in 1960.
But to generations of American TV viewers, she was best known as Alice.
Frey, who knew Davis for 38 years, said fans often told her that they felt like they'd been raised by the character of Alice.
"Look how well you turned out," she would reply, according to Frey.
"All of us wish we had an Alice. I wish I had an Alice," Davis told People.
"What you see on 'The Brady Bunch' was who she was," Frey said. "She was a very faithful Christian person."
Davis mostly retired from show business in the late 1970s to settle down in an Episcopal community.
"I'm convinced we all have a God-shaped space in us, and until we fill that space with God, we'll never know what it is to be whole," she told People.
Even as she turned her focus more toward religion, she appeared in commercials and several stage productions.
In the 1995 "The Brady Bunch" movie, she played a truck driver, persuading a runaway Jan to return home.
While she also shone in movie and stage roles, she told the Archive of American Television that she loved working on the small screen.
"The neatest thing about television is that they write for you. … They find out what you can do, what you do best, how it works, and how they can use you. And so from there on, it's wonderful. Because it's different. It's not like playing the same play forever and ever and ever," she said. "But the character's still the same. It just gets better and more developed. So that's great fun."
Source: CNN
[AdSense-A]