The Pacers expect Paul George to make a full recovery from the compound fracture in his right leg. They're just not expecting that to happen this season.
On Tuesday, 11 days after George's gruesome injury in a U.S. national team scrimmage, Larry Bird and Frank Vogel said doctors believe the two-time All-Star can be his old self after a long recovery.
What the Pacers don't know is precisely how long that will be. George underwent surgery Aug. 2 and returned to Indianapolis on Aug. 5. He is recovering at his home.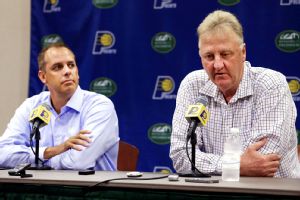 Vogel said doctors told the team the injury did not involve ligaments, tendons, joints or nerves, some rare good news in what has become a stressful offseason for the Pacers.
"It's bad enough for the franchise, but I feel so bad for Paul because I know how hard he works, how much it meant to him to play for his country," said Bird, the Pacers' president of basketball operations. "All he cared about was trying to get better."
George has not yet spoken publicly about what happened on the play when he attempted to block a shot on a fast break and crashed into a basketball stanchion, snapping his leg. The accident raised questions about whether the support was too close to the court, and generated debate about whether NBA stars are risking too much by representing the U.S.
Bird, a member of the original Dream Team in 1992, said USA Basketball needs to send the best American players to the most competitive tournaments.
What's next for George is unclear. Neither Bird nor Vogel established a timetable for George's return.
Doctors who have not examined George say a full recovery from this kind of injury could take 12 to 18 months. Bird said the physicians who are treating George have not ruled out a late-season return, though the Pacers won't rush him back.
"It's going to be up to our doctors, our medical staff and Paul, but we would never put him in a situation where he'd be uncomfortable," Bird said. "If he can play and he's healthy to play, he'll play. If our doctors think he'll play at 60 to 70 percent, we wouldn't do that."
Vogel said George is now wearing a split, not a hard cast, and is getting around on crutches. He still cannot drive.
"He's in really good spirits," the coach said. "He's frustrated he's not able to play this year. It's going to be a tough process recovering from this, but he's encouraged that a full recovery is expected."
The one-two punch of losing Lance Stephenson in free agency and George to injury has forced the usually creative Pacers to look at even more options.
Indiana has applied for a disabled player exception, which would give the team an additional $5.3 million to sign a free agent or trade for a player whose salary goes up to $5.4 million. The league has not yet responded.
If Indiana does get the exception, Bird will still be hamstrung because the team is so close to the luxury tax threshold and the exemption won't provide relief for that. Team owner Herb Simon has continued to tell Bird he will not pay the tax.
So Bird is looking for affordable help.
On Monday, he met with Shawn Marion, perhaps the best free agent available. He came away with the understanding that Marion wants to play for a contender.
Vogel is rethinking his plans, too.
He expects last year's first-round draft pick, the seldom-used Solomon Hill, to play a much bigger role this season. By moving George Hill to shooting guard, C.J. Watson and the recently signed Rodney Stuckey could compete for the starting point guard job. The Pacers have shooting specialist Chris Copeland and the recently acquired C.J. Miles in the mix, too.
Whatever the Pacers do without George, one thing is clear.
"You just can't replace Paul George," Bird said.
That doesn't mean the Pacers are giving up on the season.
Vogel promised to put a gritty team on the court and noted that the Pacers have played their best when nobody gives them a chance. And while some fans think the Pacers would be served best by "tanking" this season and adding a lottery pick to the lineup when George returns, that's not something Bird would contemplate.
"Our goal is to play as hard as we can and try to win," he said. "I know some of our fans want us to go in another direction, but we're here to win."
And to make sure that when George is healthy again, the Pacers are still in position to compete for a title.
"Losing Paul George is going to hurt you for a while," Vogel said. "But we also want to make sure he has the pieces in place when he comes back."
Source: ESPN
[AdSense-A]