PORTLAND, Ore. — Jerome Kersey, a fan favorite during his decade-plus career with the Portland Trail Blazers and a veteran of 17 NBA seasons, died Wednesday. He was 52.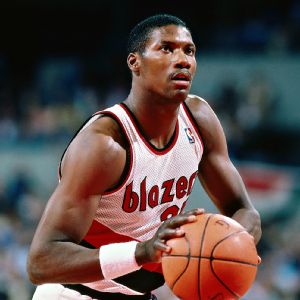 The Trail Blazers confirmed that Kersey had died but didn't provide details. A team ambassador, Kersey appeared Tuesday with fellow former Blazers Terry Porter and Brian Grant at Madison High School in Portland in celebration of African American History Month.
"Today we lost an incredible person and one of the most beloved players to ever wear a Trail Blazers uniform," Blazers owner Paul Allen said in a statement. "My thoughts and condolences are with the Kersey family. He will be missed by all of us. It's a terrible loss."
Kersey, a 6-foot-7 small forward, was a starter on Portland's 1990 and 1992 NBA Finals teams. He was a second-round draft pick in 1984 and spent his first 11 seasons in Portland, playing alongside the likes of Hall of Famer Clyde Drexler, Kiki Vandeweghe and Porter. Kersey played for five other NBA teams, winning a championship with San Antonio in 1999. He retired from the NBA in 2001.
"It is so sad," Drexler told Comcast SportsNet Northwest upon hearing the news. "It is a huge loss for the Portland community. He was the greatest guy, the nicest friend, teammate and brother. He was loved by everyone. We will all miss him. He just cared so much. This is unbelievable."
At the time of his retirement, Kersey ranked second on the Blazers' all-time list in games played (831) and rebounds (5,078), and third in blocked shots (621) and steals (1,059). All told, he played in 1,153 NBA games for Portland, Golden State, the Lakers, Seattle, San Antonio and Milwaukee, averaging 10.3 points and 5.5 rebounds.
Trail Blazers guard Damian Lillard took to Twitter to express his sadness at Kersey's death:
Others who posted their condolences included Kobe Bryant and Vince Carter.
Before his NBA career, Kersey was a two-time National Association of Basketball Coaches Division II All-American at Longwood College, where he was a four-year starter.
"He was the greatest guy, the nicest friend, teammate and brother. He was loved by everyone. We will all miss him. He just cared so much.

"– Clyde Drexler, on Trail Blazers teammate Jerome Kersey
Kersey also coached in the NBA as an assistant with the Bucks under Porter in 2004-05. Early in his retirement he served as an assistant with the Blazers' summer league team. In addition to serving as a team ambassador, he also appeared on Blazers broadcasts for CSN Northwest.
Bill Schonely, who was the Blazers' play-by-play radio announcer for 28 seasons, told The Oregonian that he had run into Kersey earlier Wednesday morning at the team's offices.
"He just had a knee operation on Monday," Schonely told the paper. "He had told me he was going to have to be on crutches, so I gave him a hard time today and asked him, 'Where are the crutches?' He said his knee was a little sore, but he said he didn't need them."
Kersey lived with his wife, Teri, in Lake Oswego, Oregon. He had four daughters.
"The news is so sudden, and we're sure more details will be forthcoming," Blazers president Chris McGowan said. "But it is indeed a sad day for our organization, the city of Portland and the NBA. Jerome will be remembered not only for his incredible contributions on the court, but his tremendous impact in our community."
The Blazers franchise lost beloved Hall of Fame coach Dr. Jack Ramsay in 2014 and popular center Kevin Duckworth in 2008. Duckworth was 44 at the time of his death.
Source: ESPN