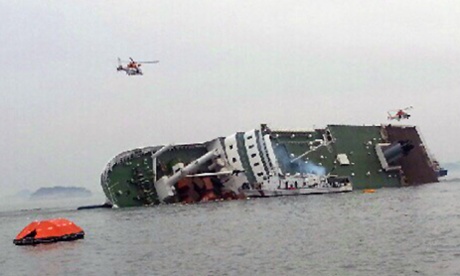 South Korea despatched coastguard vessels and helicopters on Wednesday to rescue around 450 passengers – mostly high school students – on a ferry sinking off the southern coast, officials said.
"The ship is taking in water and sinking," a coastguard spokesman told AFP by phone.
"There are around 450 people on board and we have coastguard vessels, commercial ships in the area, as well as helicopters all engaged in the rescue operation," the spokesman said.
Earlier reports had put the number of people on board at 350.
Most of the passengers were believed to be high school students on a trip to the southern resort island of Jeju.
The Yonhap news agency cited rescue agency officials as saying 130 passengers had already been taken off the stricken ferry, which ran into trouble 20 kilometres (13 miles) off the southern coast.
"We heard a big thumping sound and the boat stopped," one passenger told the YTN news channel by telephone.
"The boat is tilting and we have to hold on to something to stay seated," the passenger said.
The reason for the ship's difficulties was not immediately clear. Heavy fog had set in overnight in the area, leading to cancellations of many passenger ferry services to islands.
However, news reports said visibility in the area was fair.
Source:  TheGuardian.com
 [AdSense-A]