Mississippi Family Vanishes After Car Wreck: 'We Have No Idea Where These People Are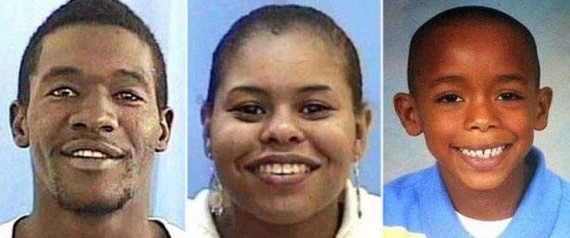 Authorities are searching for a Mississippi family who vanished without a trace after a car accident over the weekend.
Although the family's abandoned, overturned SUV was found upside down in a ditch in Hermanville, Miss., Saturday morning, Copiah County Sheriff Harold Jones told ABCNews.com that the family was nowhere to be found.
Atira Hill, 30, her 7-year-old son, Jaidon, and her husband, Laterry Smith, 34, were last seen driving in their car on Friday, the National Center for Missing and Exploited Children said in a statement.
Copiah County sheriff's deputies received a call about a car on fire in a rural area at approximately 7:10 a.m. Saturday, Jones said.
When they arrived on the scene, they found a smoldering, tan Dodge SUV turned over in a ditch off the side of a road where there appeared to have been an accident.
"The car was smoking with nobody around it," Jones said. "The sunroof was broken because [the car] was lying on its top and the left front fender had been damaged."
Initially, law enforcement officials believed the owners possibly set the SUV on fire so they wouldn't have to make car payments, Jones said.
"A lot of times people, when they want to do away with their vehicles, take them to the western part of Copiah County and set them on fire," he said. "This was not the case."
Investigators ran the plates on the car and learned who it was registered to and then called the family's relatives.
"We found out there were supposed to be three people in this vehicle," Jones said, but he declined to comment further on what he learned from family members.
Officials searched the wooded area around the car as well as local hospitals, but there have been no signs of the boy, his mother and stepfather.
"We have no idea where these people are," he said. "We have some people we need to talk to, but we can't find them."
Jones declined to comment on who investigators were hoping to speak with, but said they were continuing to follow any leads.
A spokeswoman from the FBI's Jackson Division, which is assisting in the investigation, declined to comment to ABC News.
According to her Facebook page, Atira Hill works as a nursing assistant at the University of Mississippi Medical Center in Jackson.
Matt Westerfield, a spokesman for the hospital, told ABCNews.com that an Atira Hill-Smith worked at the hospital. She did not show up for work today, he said.
She is not a patient at the hospital, Westerfield said.
Jaidon Hill is 3 feet tall and weighs 44 pounds and has black hair and brown eyes. Atira Hill is 5 feet tall, weighs 148 pounds and has brown hair and brown eyes. Laterry Smith is 5 feet 8 inches tall, weighs 180 pounds and has black hair and brown eyes, according to the National Center for Missing and Exploited Children.
Anyone with information about their whereabouts should contact the Copiah County Sheriff's Department.
Ear Hustle 411 will keep you posted on any updates.