AMEN!! I am pleased with the outcome of this case so far. Hopefully the justice portion will prevail as well.
Read about the case as reported by ABC 7:

The New York Medical Examiner has ruled Eric Garner died from a chokehold used by a police officer during his arrest for selling untaxed, loose cigarettes last month, calling it a homicide.
The autopsy found that Garner, 43, died as a result of compression of neck, compression of chest and prone positioning during physical restraint by police.
Mayor Bill de Blasio released the following statement. "On behalf of all New Yorkers, I extend my deepest sympathies to the family of Eric Garner, on this day we have received the Medical Examiner's findings concerning the cause of his death. My administration will continue to work with all involved authorities, including the Richmond County District Attorney, to ensure a fair and justified outcome."
Contributing factors included acute and chronic bronchial asthma, obesity, and hypertensive cardiovascular disease, the medical examiner said.
"The NYPD has been informed of the preliminary findings by the Office of Chief Medical Examiner as it relates to the death of Eric Garner. We will continue to cooperate with the Richmond County District Attorney's office, which is the lead investigative entity in this case," Police Commissioner William Bratton said.
Garner's videotaped confrontation with police has caused widespread outcry, and Attorney General Eric Holder has said the Justice Department is "closely monitoring" the investigation into his death.
PBA president Patrick J. Lynch said: "Our sympathies and prayers go out to the family and friends of Mr. Garner. Police Officers don't start their days expecting or wanting something like this to occur in the performance of their duties. The ME's report indicates that Mr. Garner was a man with serious health problems so there will have to be a complete and thorough analysis of all the factors that played a part in this tragedy. We believe, however, that if he had not resisted the lawful order of the police officers placing him under arrest, this tragedy would not have occurred. The NYC PBA stands firmly in support of all police officers who are put in these difficult circumstances."
The video shows police confronting Garner for selling loose cigarettes on a Staten Island street. The video shows Garner being placed in an apparent chokehold and being knocked to the ground. Garner repeatedly screams, "I can't breathe!" He died a short time later.
Two NYPD officers and four emergency medical workers have been reassigned while the case is under investigation.
On Thursday, the Rev. Al Sharpton, an ally of Mayor Bill de Blasio, criticized Police Commissioner William Bratton for suggesting race wasn't a factor in Garner's July 17 death. And Sharpton provocatively invoked de Blasio's teenage son, whose mother is black.
"If Dante wasn't your son, he'd be a candidate for a chokehold. And we've got to deal with that reality," Sharpton thundered during a two-hour panel of community leaders and city officials gathered by de Blasio to discuss Garner's death.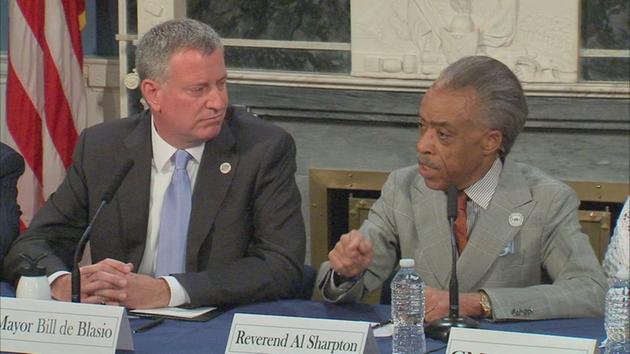 Bratton, a proponent of the Broken Windows theory of policing – that cracking down on low-level offenses helps suppress bigger ones – said again that chokeholds were against New York Police Department policy and that he was enhancing training for 20,000 officers. De Blasio supported Bratton, calling him "the finest police leader in the United States of America," and urged continued dialogue.
The Staten Island district attorney will now determine whether to empanel a grand jury and charge officers in the death of Garner, who lived in the borough. The case is fraught with political consequences for District Attorney Daniel Donovan, a Republican whose office has a strong working relationship with the NYPD and whose constituents are overwhelmingly white and include many officers and their relatives.
If the officers aren't charged, there's fear the tensions surrounding Garner's death could dramatically increase, which is why City Hall wouldn't oppose the federal government assuming the case, according to a senior administration source who talked to the Associated Press.
De Blasio on Monday stressed that the city would cooperate with any federal probe.
"It is absolutely the right of the federal government to make that decision," the mayor said, "and we would regard that as an appropriate act and work with them in every way."
Bratton has said he expects federal prosecutors and the FBI to investigate Garner's case for civil rights violations. U.S. Attorney General Eric Holder said last week the Department of Justice is closely monitoring the probe into Garner's death but isn't running its own investigation.
That could change, likely after the district attorney makes his decision.
Source: ABC 7
[AdSense-A]