Buffalo's first snowstorm of the season could give the area a year's worth of snow — around 8 feet — in just three days.
More than 5 feet of snow was already on the ground Wednesday, and another round of lake-effect snow is forecast to bring an additional 3 feet of snow to the Buffalo area on Thursday and Friday. The average snowfall for an entire year: 93.6 inches, or close to 8 feet.
"This is a historic event. When all is said and done, this snowstorm will break all sorts of records, and that's saying something in Buffalo," Gov. Andrew Cuomo said during a visit to the city.
Christopher Burt, a weather historian with the Weather Underground, said this Lake Erie snowstorm "will go down as the most extreme on record."
For the second straight day, overnight temperatures in all 50 states Wednesday fell to freezing or lower — even in Hawaii, atop the high mountain summit of Mauna Kea on the Big Island.

Winter weather continues to impact much of the U.S. as Buffalo, New York prepares for more heavy snowfall. At least seven people have died from the storm in upstate New York. VPC
At least seven deaths in western New York were blamed on the snow, including three from heart attacks while shoveling.
While the worst of the cold will ease Thursday, temperatures will still be below-average in the East, the National Weather Service said.
Record cold was reported Wednesday morning in New York City (22 degrees at LaGuardia), Washington (13 at Dulles), Raleigh, N.C. (19), and as far south as Jacksonville (27).
In Corpus Christi, Texas, experts are caring for about 140 turtles stunned in a cold snap that left the reptiles stranded on Gulf Coast beaches.
In western New York, the cold just added to the misery of the massive mounds of snow.
The storm came in so fast and furious over Lake Erie early Tuesday it trapped more than 100 vehicles along a 132-mile stretch of the New York State Thruway that remained closed Wednesday.
Some areas have so much snow that road crews said it was like plowing a brick wall. Rescuers, who have been using snowmobiles, also walked car to car to try to dig out people stuck in their vehicles.
A bus with the Niagara University women's basketball team was stuck on the Thruway for more than 24 hours while returning from a game in Pittsburgh. State troopers eventually were able to pick them up and bring them to a nearby police station, Niagara guard Tiffany Corselli said.
The last time a storm this huge hit was in December 2001, when 80 to 90 inches of snow fell on the region in a five-day period.
Shoveling snow is indeed hard work: The weight of the snow on a typical Buffalo driveway is about 25 tons, WeatherBell meteorologist Ryan Maue estimated.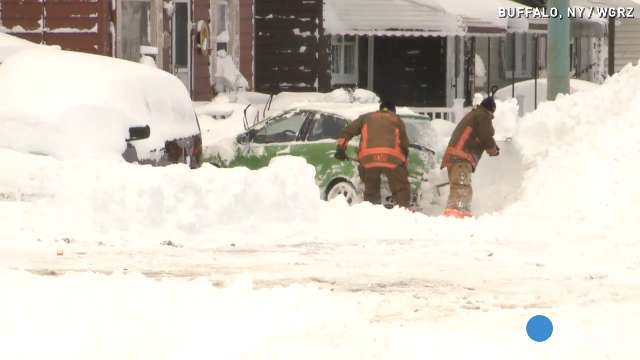 Parts of Buffalo, N.Y., may see 70 inches of snow over a three-day period. Their usual average is 94 inches of snow per year. VPC
The Buffalo Bills' game on Sunday against the New York Jets could be in jeopardy, as their stadium is buried under 220,000 tons of snow, according to the team. "We have not had this much snow, as far as we know, in the history of our team," said Andy Major, the Bills' vice president of operations and guest experience
In New Hampshire and elsewhere, icy roads led to accidents. Lake-effect storms in Michigan produced gale-force winds and as much as 18 inches of snow.
In Atlanta, tourists Morten and Annette Larsen from Copenhagen were caught off-guard by the 30-degree weather as they took photos of a monument to the 1996 Summer Olympics at Centennial Olympic Park.
"It's as cold here as it is in Denmark right now. We didn't expect that," Larsen said, waving a hand over his denim jacket, buttoned tightly over a hooded sweatshirt.
Source: USA TODAY