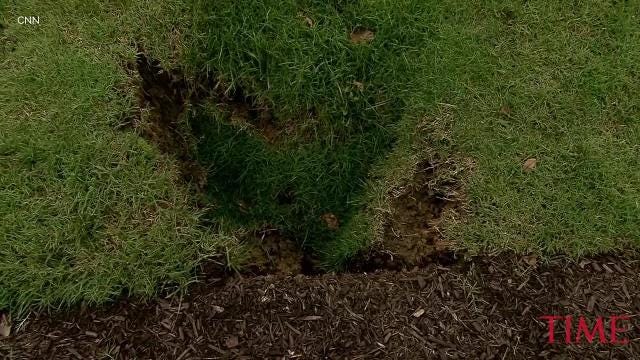 A sinkhole at the White House has given "drain the swamp" a whole new meaning.
This week, part of the ground caved in on the White House's North Lawn, close to the briefing room and right outside a deputy press secretary's office. Journalists have noted that the sinkhole has grown larger by the day.
The National Park Service, which oversees the White House grounds, said it is monitoring the situation and plans to bring in experts to determine a remedy.
"Sinkholes, like this one, are common occurrences in the Washington area following heavy rain like the DC metro area has experienced in the last week," NPS spokeswoman Jenny Anzelmo-Sarles said in an email. "We do not believe it poses any risk to the White House or is representative of a larger problem."
All of this has, naturally, led to groundbreaking observations and jokes.
This week I've been observing a sinkhole on the @WhiteHouse North Lawn, just outside the press briefing room, growing larger by the day. pic.twitter.com/BsFUtxFqpB

— Steve Herman (@W7VOA) May 22, 2018
So what's the reason for the occurrence? The sinkhole could be blamed on a stretch of extremely soggy weather in Washington. Counting Tuesday, D.C. has had measurable rain on nine of the past 11 days, AccuWeather meteorologist Bob Larson said.
As of Tuesday afternoon, the city has gotten 6.15 inches of rain, Larson said. That's way over the average total rainfall of 3.99 inches in May.
Some sinkholes can be caused by human activity, AccuWeather said, while others can be caused by extreme weather, including heavy rain.