It's a Dress! It's a Cake! It's a Wedding Dress Cake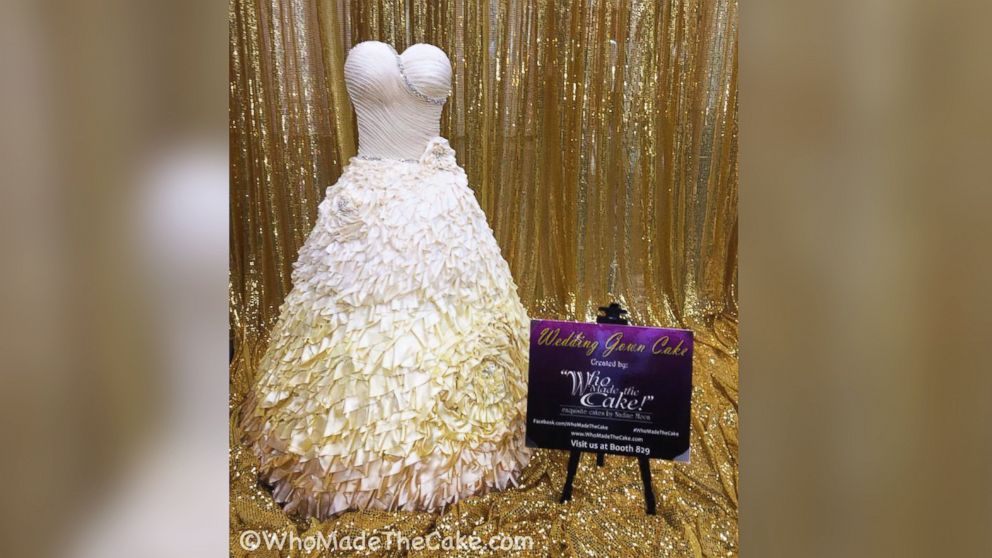 Nadine Moon creates custom cakes for all kinds of occasions: birthdays, baby showers and weddings. And now she has created a wedding dress cake.
That's right. It's a cake in the shape of a wedding dress, and it's life-sized, to boot.
Moon, the owner of the Houston bakery Who Made the Cake, displayed her sweet creation on the floor of the George R. Brown Convention Center in Houston for the biannual Bridal Extravaganza Show.
The dress-shaped cake, a sleeveless white concoction with a sweetheart neckline, ruched bodice and full, ruffled ombre skirt, took Moon and staffers about 140 hours to make.
The finished product weighed 250 pounds, excluding the plywood frame for the skirt, and it was all covered in 50 pounds of fondant over butter cake. The creation stood 54 inches tall and was four-and-a-half feet at its widest, and employees transported the finished creation by van to the conference center.
Moon said the cake was made at the request of the bridal show, which wanted something memorable to get brides excited. The back of the cake was flat, allowing for brides – and designer Randi Fenoli, star of "Say Yes to the Dress" – to stand behind it and get their pictures taken.
The dress – er, cake – was a hit.
"Everybody wanted a picture with the cake," Moon said, adding, "I think it was exciting for them just to be able to interact with this huge, edible piece of art."
Photos posted on the bakery's Facebook page drew amazed reactions.
"That's a cake!!!" one poster wrote.
"It looks exactly like a dress. Wow!" wrote another.
The cake remained on the convention floor over the weekend for the event (organizers left the air conditioning running to keep the cake cool, Moon said). The cake was thrown into a dumpster at the conclusion of the event.
"She did her job," Moon said, laughing.
Any bride-to-be who wishes to get such a cake for her wedding would pay for the novelty. Moon says a wedding dress cake like the one she displayed at the event would run a customer between $12,000 and $15,000.
Source: ABC News
[AdSense-A]