A Detroit police officer accused of manslaughter in the death of a 7-year-old girl will go on trial this week, as national attention remains focused on the militarization of U.S. law enforcement and police violence perpetrated against people of color.
Aiyana Stanley-Jones was sleeping in her home on the east side of Detroit on the night of May 16, 2010, when officers barged into the house. They were conducting a police raid in search of a murder suspect who lived at that address — and being filmed for a reality TV show in the process — when Officer Joseph Weekley accidentally fired his gun. What exactly caused him to fire is still a matter of dispute. But the shot killed Aiyana.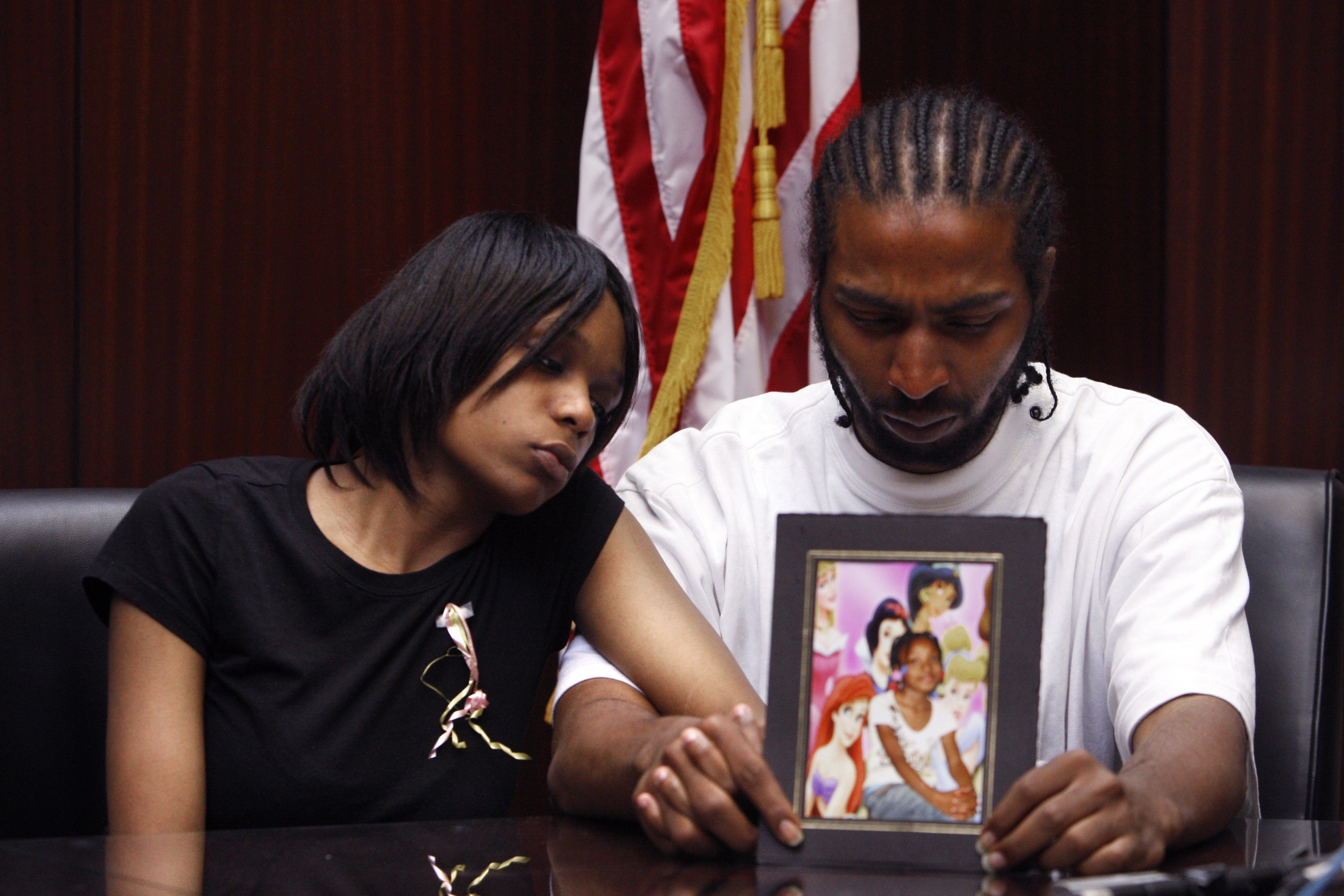 The death of Aiyana, who was black, has since been a rallying point for Detroit activists, who say the girl has not received justice. Officer Weekley, who is white, is still free. Recent protests and conversations among activists have linked Aiyana's death to the death of
Michael Brown
, the unarmed black teen who was killed by a police officer in Ferguson, Missouri, last month.
"This was essentially a military assault on a private dwelling," Ron Scott, spokesman for the Detroit Coalition Against Police Brutality, told the Associated Press last year about the raid on the Stanley-Jones home.
Weekley was first tried in connection with Aiyana's death in 2013, but the jury was unable to reach a verdict. This Monday, jury selection began for Weekley's retrial.
Though many details about the events surrounding Aiyana's death were revealed in the 2013 trial, a number of questions remain unanswered. The Huffington Post has compiled an extensive background on what we know happened before, and since, Aiyana Stanley-Jones lost her life.
CONFLICTING STORIES
It was a little after midnight when the Detroit Police Special Response Team, a unit similar to a SWAT team, descended on the Stanely-Jones residence in search of murder suspect Chauncey Owens, who lived upstairs. Owens was suspected of having killed a teenager a few days earlier, a charge for which he would eventually be convicted.
Weekley was first through the door, and saw what he thought was an empty room with a man standing in the far doorway, he testified last year.
According to Weekley, a fellow officer threw a flash-bang grenade through the window, temporarily blinding him. When Weekley regained sight, he realized there was a person on the couch instead of what he'd originally thought was a pile of clothes.
He was swinging his weapon to point toward the couch, Weekley testified, when Aiyana's grandmother, Mertilla Jones — who had been sleeping on the couch with the girl — smacked his weapon, an MP5 submachine gun, with her hand, causing him to pull the trigger. The bullet struck and killed Aiyana.
At the time, Weekley said, he didn't even realize he had fired his gun, thinking the shot had been fired by someone else. His lawyer later described it as a tragic accident.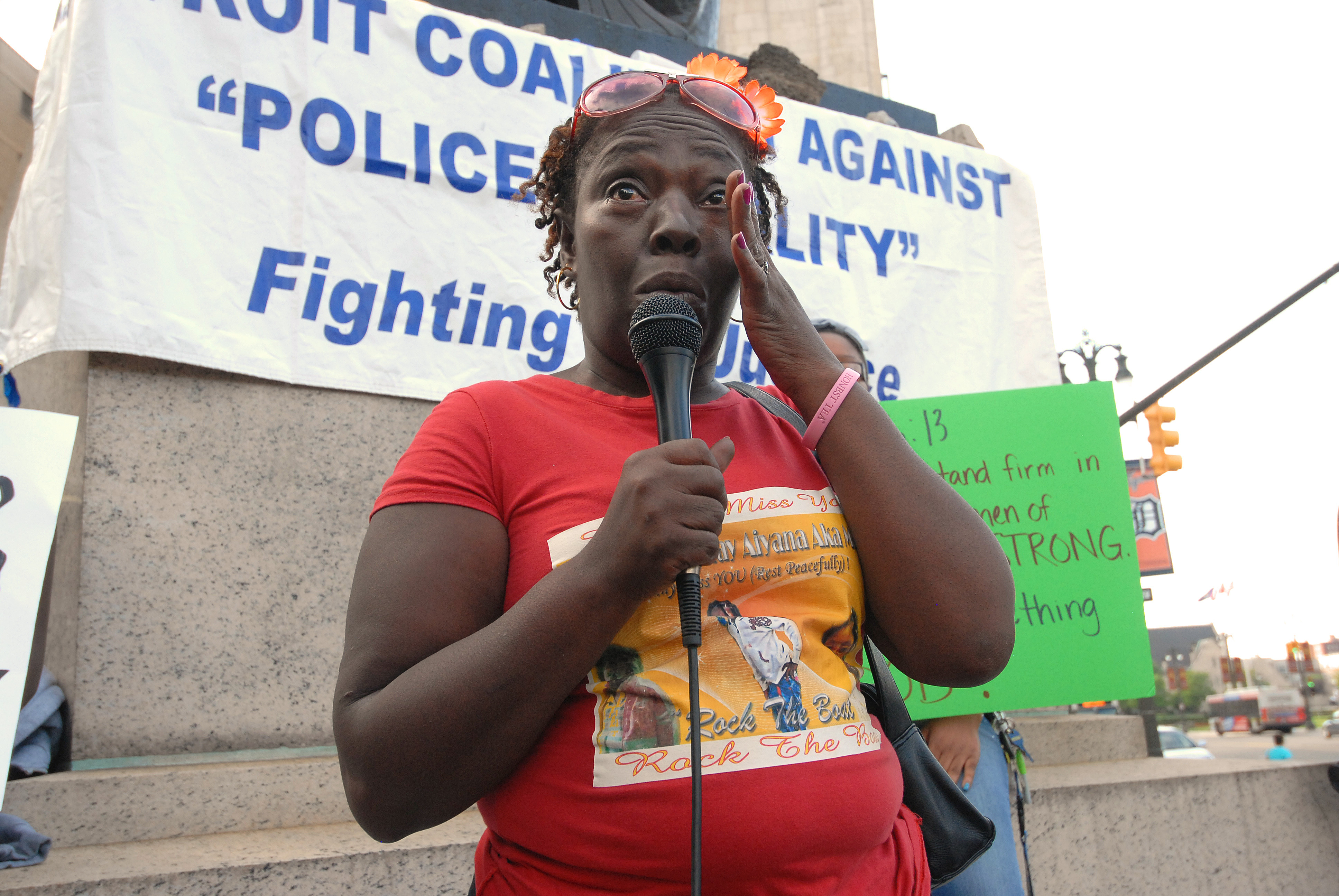 Jones told a different story at Weekley's trial last year. She said she'd initially been asleep on the couch with Aiyana, but that she was on the floor
when Weekley shot his weapon
, not close enough to touch the gun.
"The guy was just pointing right there and Aiyana [was] hit," Jones testified last year. "I seen the light leave out of her eyes."
Jones had previously said the shot came from outside the house. In 2013, at Weekley's first trial, his lawyer pointed to Jones' inconsistent accounts of the shooting and otherwise attacked her credibility, according to MLive.
Weekley was indicted in 2011 and charged with felony involuntary manslaughter, as well as the careless discharge of a firearm causing death. If convicted, he faces a maximum 15-year sentence for the manslaughter charge.
LIGHTS, CAMERA, ACTION
The night of the raid, a camera crew from A&E's "The First 48," a reality show that follows police officers during the first two days of murder investigations, was shadowing Detroit's Special Response Team. Here's the video A&E's cameras captured at the Stanley-Jones residence:
The episode that would have featured footage from that night ultimately never aired. Allison Howard, producer of "The First 48," was charged with perjury and obstruction of justice for showing the tape from that night to a third-party and hindering the police investigation. She pleaded no contest to the obstruction of justice charge, and the perjury charge was dropped. Howard received a sentence of two years' probation.
After Aiyana's death, the mayor banned police from working with reality TV crews. Then-Police Chief Warren Evans resigned from his post several months later, after authorities discovered he was pitching a reality show called "The Chief."
HuffPost reporter Radley Balko wrote last year that reality shows profiling police actions support a growing "police-industrial-entertainment complex":
Over the last decade or so, the cable dial has been stuffed full of programming that serves to make us more comfortable with police units that treat neighborhoods like battlefields. It should be of no surprise then, when we learn of SWAT raids not just for low-level drug crimes, but also for zoning violations or underage drinking, or that there are now police departments in America that serve every felony search warrant with a SWAT team, regardless of the crime.
Since Aiyana's death, critics have denounced the practice of having TV producers in the midst of police investigations, and activists have argued that having a television crew present could have affected how the police executed their search warrant the night Aiyana was killed — creating more of a spectacle than was necessary, for the sake of the cameras.
THE FIRST DEATH
The story of Aiyana Stanley-Jones' death really starts with Je'Rean Blake, a 17-year-old who was killed less than two days earlier.
The afternoon of May 14, Je'Rean had just bought an orange juice at a liquor store when he had a confrontation with a man named Chauncey Owens, 38. According to the Detroit Free Press, prosecutors allege that Owens told Je'Rean: "Stay right here. I've got something for you." Prosecutors say that Owens then left the store. Je'Rean called his mom to come pick him up, but before she arrived, Owens returned and shot the teen.
The special response team that arrived at the Stanley-Jones home two nights later was looking for Owens, who was involved with Aiyana's aunt and lived in the flat on the second story. They found Owens upstairs and arrested him.
In February, Owens was found guilty of first-degree murder and sentenced to life in prison without parole.
Prosecutors claim Aiyana's father, Charles Jones, gave Owens the gun he used to kill Je'Rean. Jones was convicted of second-degree murder in Je'Rean's death, though he was found not guilty of first-degree murder, being a felon in possession of a firearm or using a firearm during a felony.
Jones maintains his innocence. His attorney, Leon Weiss, calls the verdict "contradictory and compromised," pointing out that it found Jones not guilty of having a gun and yet suggested that he was guilty of second-degree murder for giving Owens a gun.
"He's heartsick, because he lost his daughter and he got charged with something he didn't do," Weiss said of Jones. He told The Huffington Post that he questioned the motives of officials who "zealously" went after the father of a girl shot by a cop, describing the prosecution's case as extremely thin.
"I would only pray that [the prosecutor] would only use the same zeal he used on my client, Charles Jones, in trying to get a conviction in [Weekley's] case," Weiss told HuffPost this week. "If Weekley hadn't been a police officer, there wouldn't have been any grand jury … He would have been charged with second-degree murder."
Weiss is seeking a new trial for Jones, who is currently serving a prison sentence of 40 to 60 years.
'THE BRAIN'
According to the Detroit Free Press, Weekley said during his 2013 trial that he'd executed 300 search warrants during his time on the Special Response Team, and had been the first man through the door in about 100 of those.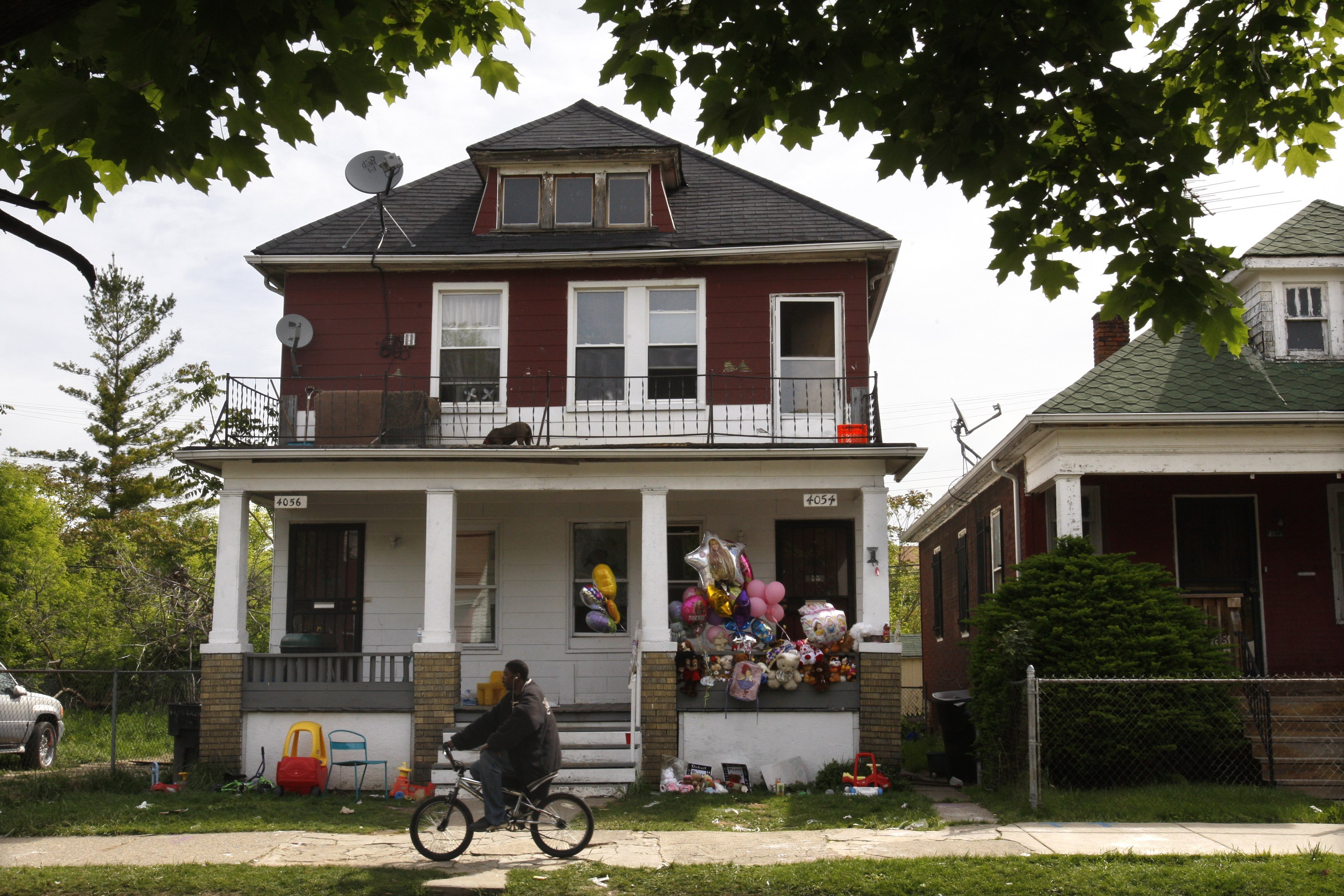 Weekley's colleagues
gave him the nickname "The Brain,"
according to The Detroit News, because he was always thinking. Before the night of Aiyana's death, the News reports, Weekley had made multiple appearances on "The First 48."
In at least one of those other raids, Weekley and his team were accused of using unnecessary force. In 2007, police raided the home of Martin Westbrook, who at that time was allegedly already in custody for an armed robbery. Westbrook and his wife sued Weekley and other members of the SRT for assault, false imprisonment and gross negligence, alleging that officers came into the home without warning, shot and killed the family's two dogs for no reason and pointed guns at a child and infant, according to the complaint. Police disputed the Westbrooks' version of events, according to the Free Press, but the case was settled late in 2010, some time after Aiyana's death.
Weekley was also cleared of wrongdoing in a non-fatal shooting in 2009, when he returned fire from a man aiming at officers, according to The Detroit News.
THE BIGGER PICTURE
Weekley's new trial comes amid national conversations about police brutality and institutional racism — conversations sparked by the death of Michael Brown, the unarmed black teen shot and killed by Officer Darren Wilson in Ferguson, Missouri last month. A 17-question survey given to prospective jurors on Monday included four questions related to the Ferguson shooting, according to The Detroit News.
Another question asked whether jurors had seen reports of "the so-called military equipment by police departments here and elsewhere that might influence your decision in this case," drawing a parallel between the law enforcement methods used in Detroit and those employed by Ferguson police officers during the protests that followed Brown's death.
Critics of police militarization have pointed to Aiyana's death when looking at ramifications of the increased use of SWAT teams among local law enforcement. They've criticized the nighttime raid and the possible use of excessive force, particularly the use of a flash-bang grenade. An anonymous Detroit official told Mother Jones in 2010 that using the grenade was "not protocol."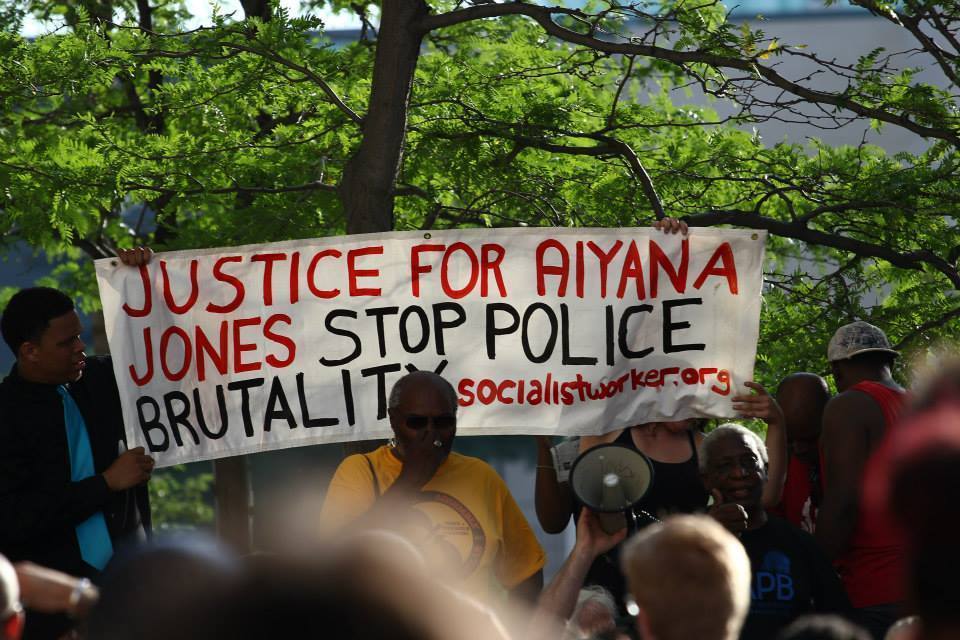 When Detroiters rallied last year for Trayvon Martin, the unarmed Florida teen killed by a neighborhood watchman in 2012,
Mertilla Jones addressed the crowd
.
"I'm out here to fight any way for the other Aiyanas that's to come," she said, "because it ain't stop at just my grandbaby."
Source: Huffington Post