They will soon take the track in their green and gold leggings, their bulging bodies rippling underneath one-piece bodysuits typically worn by household names like American Steven Holcomb — or even Lolo Jones.
Captain Winston Watts and his Jamaican bobsled team probably won't even come close to winning an Olympic medal like Holcomb — nor will they hog the spotlight like Lolo. Yet the Jamaicans are on track to get just as much or more Olympic publicity than the great Usain Bolt — by their positive attitudes alone. And Holcomb, for one, is as a big fan of theirs as there ever was — as said in this ESPN interview.
"They did work hard," said Holcomb, who will defend his gold medal in four-man. "It's not easy to qualify for the Games. They were trying in '06, they missed. They tried in '10, they missed. They tried again, they made it. So it's good to have that exposure."
What the two-man Jamaican team will do without question — like they've done since 1988 in Calgary — is bring positive vibes to a region desperately in need of some.
You've seen the photographs of one Sochi, displaying unflinchingly eye-opening images of unfinished bathrooms from which live wires hang next to showers — potentially fatal, that — amid a security ring that rivals North Korea's by its sheer volume of heavily armed officers standing guard at every corner not to mention the plainclothes secret police lurking nearby.
Allegations of corruption hang over every venue at which these Games will be staged, like a particle-board laden, over-budgeted, undignified mess if ever there was one.
The Jamaicans will get just one chance to make it to the medals stand in Sochi — yet you and everyone else will know about what they did at the Sanki Sliding Center on the final weekend of these Olympics.
Not because they couldn't pony up the dough to make it to Russia initially, or that when they finally did, their equipment didn't arrive at the same time they did — but because they happen to smile all the time and make the best of bad situations.
In a way, it's similar to what the Russian citizens are going through while President Vladimir Putin digs deeper into their pockets.
Now that the Olympics are here, Putin wants them to put on a more public face and smile big for the visitors — acting like nothing perverse is going on in their own country. Punishment will likely be swift and much colder — like Siberia — for anyone caught not cooperating.
Are these people really potential terrorists? Or, are they just concerned citizens? Or both? Sure, these Games are rife with contention and mistrust as the billions stolen from public citizens passes the $50B plateau, reportedly.
Is this Olympics different from any other Olympics? In terms of spending, yes it is but in other ways it is sadly not.
Fear not, for there is a proverbial light at the end of the bobsled track.
A rickety sled the Americans wouldn't use in any competition has come to a screeching halt before your televisions and computers, depositing several cheery individuals flashing those mega-watt smiles.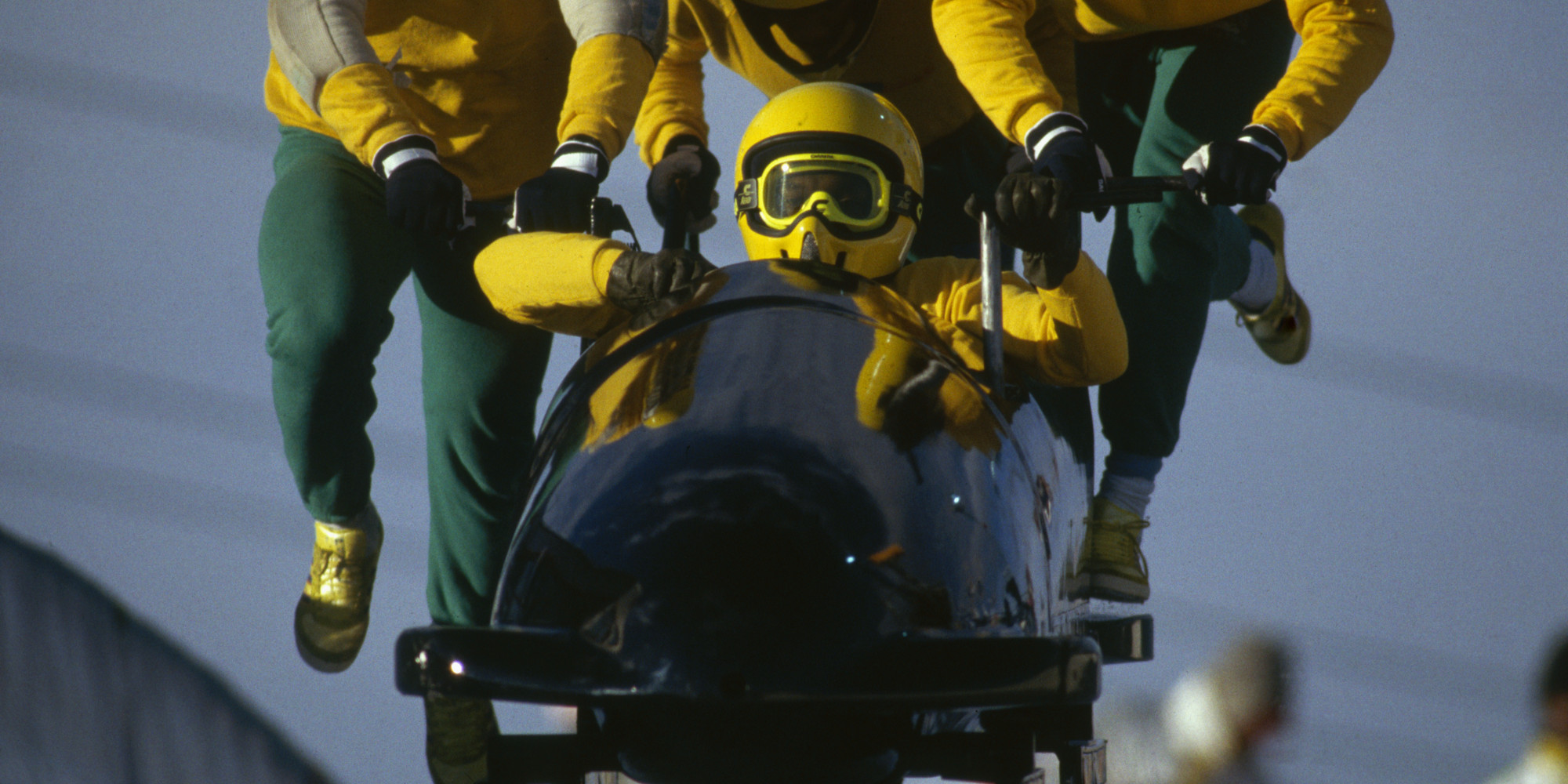 Behold, a breath of fresh air for even the surliest of Sochi citizens who are tired of the construction, tired of the Olympics and tired of being ruled by a dictator like Putin.
In your heart of hearts, you wish — hell, I wish — these sturdy athletes in green and gold colored body suits would stride up to the medals stand, weighed down only by the gold draped around their necks.
Yet, the chances of Jamaica winning a medal are remote. That's okay, because for a moment in time you will forget about the crap that Sochi citizens and Russians as a whole have been going through to stage these Olympics in a war zone, on a proving ground for Russian citizens who have had it up to here with it all.
Sochi also happens to double as a tourist destination with an Olympic slogan that is both "hot" — average winter temps are 52 degrees — "cool," due to the nearby Caucasus Mountains and "yours," which sadly isn't the case.
Nope, it's Putin and his cronies who have benefited most — but these leaders say someday that these Olympics may improve the economy — after Russian taxpayers finish paying back the billions paid to stage these Winter Games amid sun and palm trees.
You see, despite what's been spent supposedly improving infrastructure — such as a $30 billion highway connecting Sochi to the bobsledding venue and the resort town of Kranskya Polyana — it also serves as the gateway to another Putin hideaway tucked between a UNESCO World Heritage Site and a national park. Nothing is what it seems here.
Never fear, these Jamaicans are here to save these putrid smelling Olympics. Watts' boys are probably the only team that hasn't complained about the cruddy accommodations, the lack of competent service, the shoddy venues, the lack of food and drink — and still they, and we, will go on living.
For crying out loud, the Jamaicans had to beg, borrow and plead just to get to this Hell hole, starting with a journey that began back in Jamaica, continued in the oil-rich border town of Evanston, Wyoming for a few years to train — then led them along Interstate 80 westbound about 60 miles this January.
Down and nearly out of another Olympics and ideas to get serviceable equipment, a friend directed them to seek help at the Sundance Film Festival in Park City, Utah — all in a quest to raise the tens of thousands of dollars needed to participate in these Olympics. (They raised $178,000 in short order and called it good.)
I'm pretty sure Holcomb alone needs that much in one season to follow his dreams.
Source:  Sports.Yahoo.Com