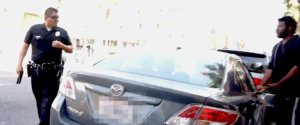 The man trying to get into Jason Roberts' car was clearly a professional.
His movements were quick, skilled and evidently practiced. He began to attract the notice of skeptical onlookers. Who was that man breaking into the Mazda? Shouldn't someone do something?
A "professional" was exactly what he was, and, having called AAA for help getting into his locked car, Roberts expected nothing less. He was, however, unnerved by the stares of the people questioning the motives of a mechanic who was only trying to help. Then it hit him — they were suspicious because, unlike him, the mechanic was black.
Roberts, a host on the YouTube channel Simple Misfits, decided to replicate the situation, this time camera in hand, so that everyone could witness the same unacceptable double standard that he had. He didn't realize how intense the response would be. Watch the video above to see for yourself (warning: NSFW language).
When Roberts attempted to break into his car, he set off the alarm again and again, but received only a few raised eyebrows.  When actor Quentin Brunson took his turn, Los Angeles police were on the scene within two minutes, greeting him with profanity and a harsh attitude.
"Let me see your fucking hands," ordered the first cop to arrive. "Get up against the wall."
Roberts stepped in immediately, but heavy questioning followed. "One thing that he was telling me that was really surprising is that there was a female cop — I believe she was Caucasian — she came up to [Brunson] and she asked, 'Oh, why are you so nervous? What's wrong, why are you trembling?'" Roberts told The Huffington Post.
According to Roberts' account, Brunson calmly explained to the cop that he'd never been arrested before. The police officer responded, "You've never been arrested before?"
Roberts' goal for the experiment, he said, was to raise awareness. The video is spreading on the Web just days after Michael Dunn, a white man who fired on a group of black teenagers in Florida, killing one, was convicted on three attempted murder counts but escaped his most serious charge of first-degree murder. Dunn's verdict has revived conversations
Source:  Huffington Post