The Indiana state legislature is considering an authoritarian bill that would essentially allow police to kill protesters with zero accountability.
Republican senator Jim Tomes introduced Senate Bill 285 in January, though it was given its first committee hearing on Wednesday. The bill authorizes city officials to use "any means necessary" to break up a group of 10 or more protesters blocking traffic, "even to the point of costing lives."
"A responsible public official shall, not later than 15 minutes after learning of a mass traffic obstruction in the official's jurisdiction, dispatch all available law enforcement officers … with directions to use any means necessary to clear the roads of the persons unlawfully obstructing vehicular traffic," the legislation reads.
According to The Guardian, Tomes has a history of introducing draconian right-wing legislation, including bills that call for incarcerating transgender people for up to a year not using the bathroom associated with the gender on their birth certificate. Sue Ellen Braunlin, who is the co-president of the Indiana Religious Coalition for Reproductive Justice, called Tomes' bill the "Block Traffic and You Die bill."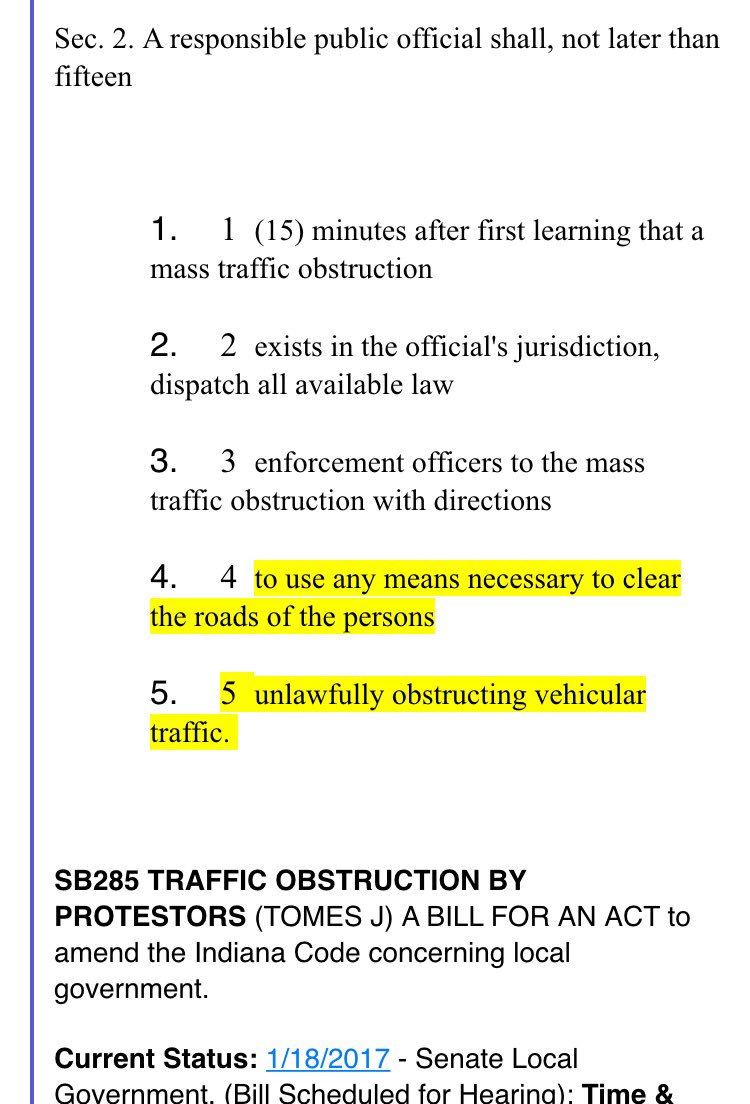 Braunlin told The Guardian that the bill is particularly alarming, as Indiana has seen several large-scale protests that temporarily blocked roadways, all of which ended peacefully.
"We have stopped traffic for a short time during protests, with police cooperation. Often they will let us stop traffic and we have not had a problem. We've had a women's rights march and a Black Lives Matter march and it was all very peaceful and coordinated with the police," Braunlin said. "This bill doesn't make sense."
The bill seems to be part of a larger pattern of legislation popping up to specifically target protesters occupying streets. Legislation recently introduced by Republicans in North Dakota — home of the ongoing Standing Rock protests — would create new legal protections for drivers who run over protesters in the street, even if a driver is responsible for a protester's death.
Source:  US Uncut