Exposed nipples? Naked bottoms? Bare breasts? The insouciant editors who sit in the front row of fashion shows have seen the lot at womenswear shows – and will barely raise an eyebrow. But the flesh on show at Rick Owens' menswear show in Paris on Thursday surprised even them.
In a highly unusual move, the American designer sent four of his models down the runway wearing clothes with peepholes that showed full-frontal male nudity underneath.
The flash of flesh was presented subtly, in an otherwise typically dramatic, drapey collection of dark colours and loose silhouettes. As the audience gradually realised that a taboo was being broken in front of their eyes, whispers and occasional giggles rippled down the front row like a Mexican wave. It was a move which earned him the Instagram hashtag: #dickowens.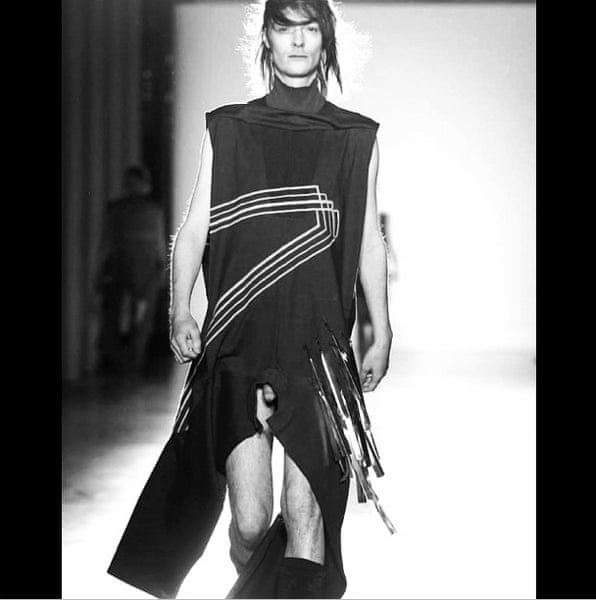 Gender-specific body parts are notoriously ubiquitous during fashion week. At Acne's spring/summer 2015 party, guests were fed penis-shaped canapes; after his spring/summer 2014 show a year previously, Walter Van Beirendonck popped penises onto his metallic snakeskin brogues. At the spring/summer 2015 shows, Tom Ford, Erdem and Christopher Kane featured exposed nipples, but while the latter have come to be almost routine – they tend to appear every season in some capacity – exposed phalli are less common. Still, Rick Owens has a history of winning headlines with his catwalk shows. For spring/summer 2014, he was widely applauded for sending a fierce, muscular Step Dance team down the catwalk stomping and scowling. That show was heralded as a significant moment in the rise of diverse casting in fashion shows.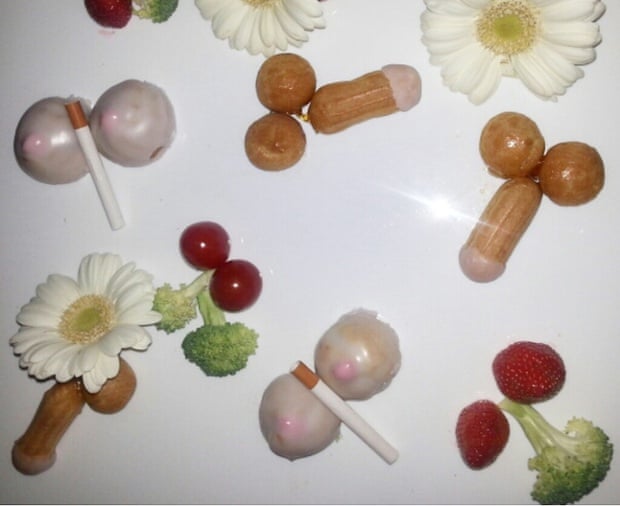 If the fashion crowd's interest was piqued, the models on the catwalk were a lot more laid-back about the experience, according to one. "It was not a thing at all," he told the Guardian. Everyone knew what they would be wearing at early fittings. Having been chosen to model one of the show's less exposing outfits himself, "I just noticed it when I looked at the photo board and saw that there were cocks hanging about. Ha!"
Source: The Guardian