As riots spread from Ukraine's embattled capital to nearly half of the country, President Viktor Yanukovych promised Friday to reshuffle his government and make other concessions — but a top opposition leader said nothing short of his resignation would do.
Hours after the president's comments, huge fireballs lit up the night sky in central Kiev and plumes of thick black smoke rose from burning tires at giant barricades erected by protesters.
Clashes resumed at the barricades, which are just yards from lines of riot police and also made up of bags of ice and scraps of furniture.
Angry demonstrators hurled firebombs, rocks and fireworks at officers. Riot police responded with tear gas and several dozen protesters were rushed to a makeshift medical triage area to be treated.
"We will force the authorities to respect us," 27-year-old protester Artur Kapelan said. "Not they, but we will dictate the conditions of a truce."
The fighting had stopped earlier this week as opposition leaders entered into face-to-face talks with Yanukovych.
But hundreds of demonstrators in ski masks and helmets were still armed with sticks, stones and firebombs at the Kiev barricades.
After nearly two months of ignoring mass demonstrations calling for his ouster, Yanukovych offered to meet some of their demands, after crowds angered by the deaths of at least two protesters and allegations of abuse by authorities besieged government buildings in scores of cities in western Ukraine.
At a meeting with religious leaders, Yanukovych vowed that, at a special parliament meeting on Tuesday, he would push through changes to his Cabinet, grant amnesty to dozens of jailed activists and amend harsh anti-protest legislation.
But Vitali Klitschko, an opposition leader who is a former world heavyweight boxing champion, declared the only way to end the street protests — known as the Maidan after the central Kiev square occupied by demonstrators — is for Yanukovych to resign.
"Just a month ago, the Maidan would have gone home," Klitschko told reporters Friday night, according to the Interfax news agency. "Today, people are demanding the president's resignation."
The protest law enacted last week appeared to have backfired on Yanukovych, sparking confrontations in which demonstrators threw stones and firebombs at police, who responded with tear gas and rubber bullets. The violence since Sunday was a harsh contrast to the determined peacefulness of the anti-government protests that have gripped the country for the last two months.
The rallies broke out after Yanukovych scrapped a key treaty with the European Union in order to secure a bailout loan from Russia. President Vladimir Putin had pressed hard to keep Ukraine in his nation's political and economic orbit, but more Ukrainians favor closer ties with the 28-nation EU than an new alliance with Russia.
At least two demonstrators were killed this week in clashes with police and protesters have seized government offices in cities in western Ukraine, where support for Yanukovych is thin.
In a separate incident, a protester was found dead outside Kiev this week after going missing from a hospital together with a prominent activist who was beaten but survived.
Meanwhile, protester anger boiled over as one activist recounted Friday how he was stripped naked, beaten and humiliated by police after being detained this week at a barricade in Kiev.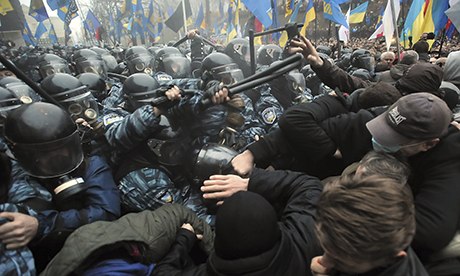 "They wanted to break my spirit and dignity but I stood firm," said Mykhailo Havrilyuk.
His plight shocked the country when a video of the abuse was posted online, showing him standing naked in the snow, covered in bruises and taunted by policemen. Protesters were further angered after Kiev courts on Friday placed about a dozen activists, detained in clashes earlier this week, under arrest.
Source:   FoxNews.com