WOW!!! I guess this is a shop one may not want to ask any questions in….not unless you aching to be banned!!!  He's just an inquisitive child, I know some adults that would not have ask as nicely as he did.  I'm glad the mom will be taking her money elsewhere and after all this press I am sure other customers may do the same.
Check out as reported by ABC News: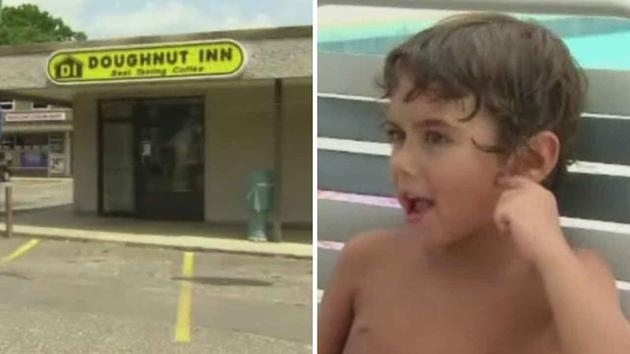 Kids are curious by nature, but a Connecticut child's curiosity — and accompanying question — may have gotten him banned from a doughnut shop.
It all started hen Justin Otero, 4, and his mother, Rebecca Denham, were at a Doughnut Inn in Monroe. When a woman walked in, Justin had a question for her.
"There was a customer who came in and he asked her if she had a baby in her belly," said Denham. "She said 'No.' He said 'I'm sorry.'"
"I asked her if she was pregnant," Justin confirmed.
Justin's mom was mortified and apologized to the woman, who she says shrugged it off.
"She said, 'It's not a problem. I get it all the time with the kids at nursery school."
But the managers at the doughnut shop apparently weren't as forgiving. When Justin and his mom went there the following morning, they were told to leave.
"She said, 'He's not allowed in here.' "I looked around and said 'Him?' asked Denham. "She said 'Yeah,' I asked why and she said he was rude."
Denham says she tried to explain it to Justin and he somewhat gets it, but it didn't damper his curiosity.
"Somebody got mad because he's not really nice," said Justin.
The manager and owner of the doughnut shop had no comment. Justin and his mom plan to take their business somewhere else.
Source: ABC News
[AdSense-A]