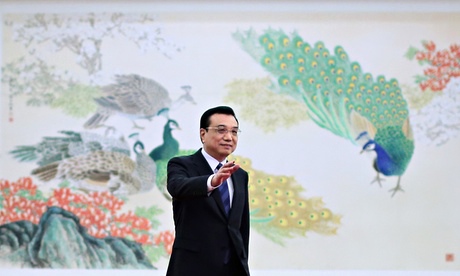 China is braced for a wave of industrial bankruptcies as its slowing economy forces companies with sky-high debts to the wall, the country's premier has said.
Premier Li Keqiang told lenders to China's private sector factories they should expect debt defaults as the world's second largest economy encounters "serious challenges" in the year ahead.
Speaking after the annual session of the national people's congress, Li Keqiang said: "We are going to confront serious challenges this year and some challenges may be even more complex." He told lenders to China's private sector factories they should expect debt defaults.
Li said China must "ensure steady growth, ensure employment, avert inflation and defuse risks" while also fighting pollution, among other tasks.
"So we need to strike a proper balance amidst all these goals and objectives," he added. "This is not going to be easy," he said.
Li's warning followed the failure of Shanghai Chaori Solar Energy to make a payment on a 1bn yuan (£118m) bond last week. The default was the first of its kind for China and widely seen as pointing to the end of 11th-hour government bailouts for troubled enterprises.
Some analysts said the decision to let some indebted firms collapse was a sign the authorities had learned from the Japanese boom and bust experience of the late 1980s and early 1990s. Tokyo was plunged into two "lost" decades of stagnation after it prevented zombie companies from declaring bankruptcy – even blocking petitions from bondholders in the courts – when a property collapse exposed debts many times the value of their businesses.
However, figures this week revealed that Beijing is copying the Japanese tactic of ramping up public infrastructure spending to replace the steep slowdown in private sector investment. Fixed asset investment, a measure of government spending on infrastructure, expanded 17.9% during the first two months of 2014, the National Bureau of Statistics said.
China's industrial production rose at its slowest pace in five years with surveys showing a faster slowdown than expected. Industrial output, which measures production at factories, workshops and mines, rose 8.6% in January and February year on year, which is the lowest pace of growth since the 7.3% annual growth figure recorded in April 2009.
The figures covered a two-month period owing to China's lunar new year holiday week, which fell in both months.
Retail sales gained 11.8% in the two months from the year before, the lowest since an 11.6% increase in February 2011.
The pessimistic data surprised economists but followed indicators for manufacturing, trade and inflation that also suggested weakness in China's economy.
China's GDP grew 7.7% in 2013, unchanged from the year before, the slowest growth since 1999. Li said this month that Beijing was targeting economic growth of about 7.5% in 2014, the same target as last year.
Société Générale said in a research note that the results were a confirmation of "fast deterioration of China's economic growth". But Julian Evans-Pritchard, Asia economist for Capital Economics, said officials were unlikely to intervene.
"Limited and seasonally distorted data over the last few weeks have made it difficult to make sense of what's really happening in China's economy," he said in a note. "Despite this broad evidence of a slowdown, we don't think policymakers will necessarily step in to support growth," he said, adding that officials were "comfortable with a moderate slowdown".
The figures come as China's leadership says it wants to transform the growth model away from an over-reliance on often wasteful investment, making private demand the driver for the country's development.
A reliance on public sector investment while the private sector rebalances away from low margin manufacturing relies for its success on the economy maintaining the government's growth target.
Li said: "Last year, without taking any additional short-term stimulus measures, we succeeded in meeting our target. Why can't we do this this year?"
He emphasised the target was approximate. "This 'about' shows that there is a level of flexibility here."
At any rate, he said authorities were not focused on the figure itself, but how it contributes to improving livelihoods, saying growth "needs to ensure fairly full employment and needs to help increase people's income".
Source:  Theguardian.com