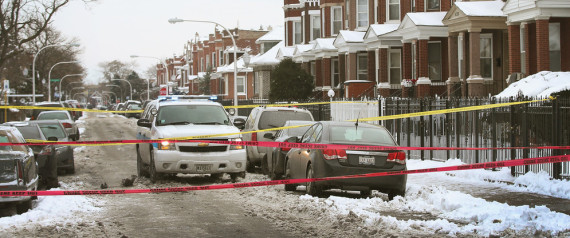 During the bloodiest weekend of the year, four people were killed and 33 were wounded in shootings, including a 24-year-old-mother of two.
Police said Jasmine Martinez was shot twice in the head early Sunday while driving on the West Side. She  was clinging to life at Stroger Hospital on Sunday, but doctors told her mother, Myrna Flores, that her daughter was brain dead and there was not much hope.
Martinez was making a left turn at Kedzie and Grand early Sunday when a gunman in another car pulled alongside her SUV and opened fire, family members and police said. Martinez also was shot in the chest. Her fiance and another man in the SUV were not injured. Martinez's fiance said she kissed him and told her she loved him just before the shooting.
Minutes earlier, the trio was confronted in the parking lot of a liquor store by several men who were throwing gang signs, said Natalie Flores, Martinez's sister.
"She's not into that. She's not in a gang. She just drove away like a normal person would, trying to get away from danger," said Eduardo Aviles, Martinez's brother-in-law.
"I want the person who did this to pay," Myrna Flores said. "If you want to kill each other, why don't you all go into a corral and do it and leave us alone," she said.
Martinez, a stay-at-home mom who planned to go back to school to study medical billing or nursing, lived less than a mile from where she was shot, family members said.
"How are we going to tell her kids? She has a son who is 1 and a daughter who is 9," Myrna Flores said.
Police said the incident appeared to be gang-related. Martinez's family disputes this.
The number of shootings each weekend for the last four weeks have risen steadily: 17, 19, 25, and, most recently, 35, as of Sunday afternoon.
In the most recent fatal shooting, Corey Brownlee, 32, was shot in the chest about 2:40 a.m. Sunday in the 6000 block of South Indiana Avenue, the same block where he lived in the Washington Park neighborhood, authorities said. A 27-year-old woman was shot in the right leg in the same incident, police said.
About 1 a.m. Sunday, Joshua Martinez, 20, was shot to death in the Gage Park neighborhood. He was found unresponsive with gunshot wounds to the head and back in the 3000 block of West 53rd Place, authorities said. Joshua Martinez, of the 4900 block of South Karlov Avenue, was pronounced dead at the scene about 1:30 a.m., according to the Cook County medical examiner's office. Police said they were questioning someone in connection with the shooting.
About 9:30 p.m. Friday, Shannon Mack, 34, was shot multiple times in the 2800 block of East 76th Street in the South Shore neighborhood, police said. Mack, of the 6800 block of South Crandon Avenue, was pronounced dead at the scene at 10:45 p.m., according to the medical examiner's office.
About 3:30 p.m. Friday, a 17-year-old girl was killed and two men were wounded in a shooting in the 6400 block of South Eberhart Avenue in the Woodlawn neighborhood, police said.
Gakirah Barnes, of the 8000 block of South South Shore Drive, suffered multiple gunshot wounds to her upper body and was taken to Northwestern Memorial Hospital, where she was pronounced dead at 5:43 p.m., authorities said.
At least 32 others have been injured in shootings since Friday afternoon.
Chicago Police spokesman Adam Collins issued a statement Monday morning , saying crime reduction has been made more difficult with current gun laws.
"While Chicago continues to see reductions in crime and violence, there's obviously much more work to be done and we continue to be challenged by lax state and federal gun laws," Collins said in a statement.
"From our officers to our police strategies to the city's strengthened investments in youth violence prevention to our close partnership with residents and community leaders, no one will rest until everyone in Chicago enjoys the same sense of safety."
Source: Suntimes.com
 [AdSense-A]