In a story that is still very much developing as more information comes to light, well-known camera store chain Calumet Photographic has filed for Chapter 7 Bankruptcy without so much as a whispered warning to their employees.
Rumors of the potential bankruptcy first began swirling yesterday, but weren't confirmed until earlier today when the court papers appeared online. At the same time, the Columet website and Twitter disappeared, and the company posted a short, sad statement on its Facebook page:
After 75 years of business it is with a heavy heart that we announce our immediate closing in the United States (our European stores will continue). It has been a joy to share our passion for photography with you all of these years. We'll miss each other and we'll miss all of our customers. Thank you for everything.
Everything about the situation is grave as grave gets. Court papers show that Calumet is declaring less than $50K in assets and between $1M and $10M in liabilities. And to make the situation even worse, the company seems to have handled the bankruptcy extremely poorly, giving their employees ZERO notice until this very morning.
Comments on the Facebook 'goodbye' post are not all of a sympathetic nature. Many are being left by outraged employees and their friends and family members who are wondering how the company could justify treating their staff in this manner: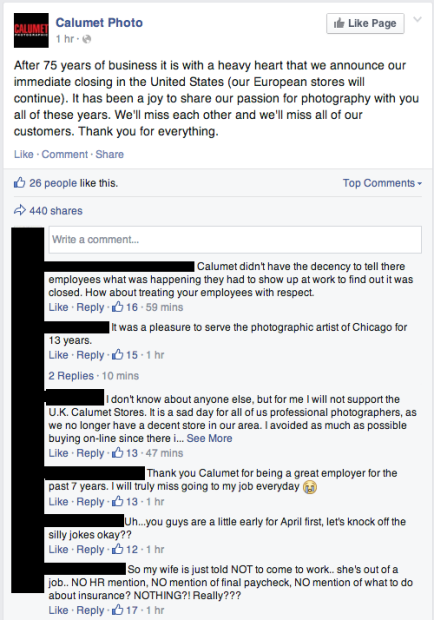 One of our readers, a former Calumet employee with friends still working for the company, gave us a bit of insight into how employees were notified:
According to my coworker, management was notified of this decision late last night, and told not to open for work the next day. My friend is still waiting to hear when/if he will be allowed to go back to the store and collect some personal belongings left on his desk.
It seems the stories told in those Facebook comments ring true: personal belongings locked in stores, rented gear still out to customers, an obscene amount of liability with little to no assets to cover it — there is absolutely no silver lining to speak of.
Source: http://petapixel.com