We've heard the saying time and time again, "Knowledge is power," but it isn't just a cheesy cliche. Your high school education and performance can determine your future career and opportunities in the long run. Seventeen-year-old Kwasi Enin is proof of that. In a rare and unprecedented show of determination, Enin, a student at William Floyd High School in Long Island, N.Y.,  applied to and was accepted by every Ivy League school. What's more, he scored a 2250 out of a possible 2400 on his SATs. He serves as proof that the commitment to education truly pays off, making it all the more important that research and consideration go into a child's high school education.
We've done some of the legwork for you, giving you eight of the top performing high schools for Black teens.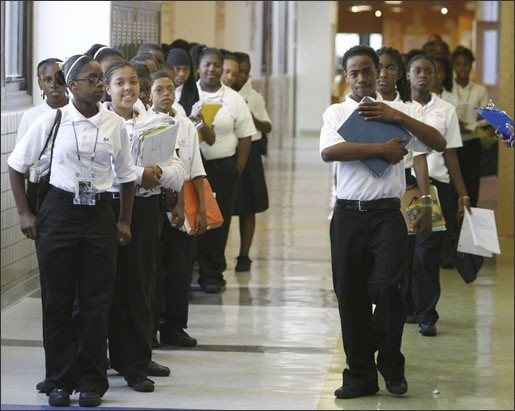 1. Mastery Charter School
Mastery Charter School, located in Philadelphia, educates over 9,600 students from kindergarten through 12th grade.  Last year's graduating class collectively received approximately $14 million in college scholarships and 71 percent of the students meet or exceed state reading levels.
The school motto, "Excellence. No Excuses," is illustrated by its unique curriculum dedicated to problem-solving skills and social-emotional tactics.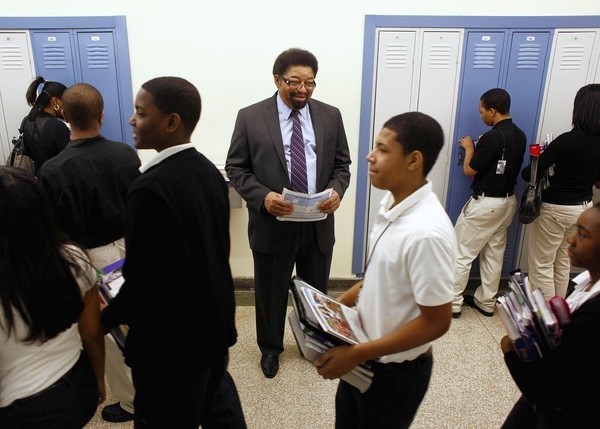 2. Providence St. Mel School
Located in Chicago, Providence St. Mel boasts a remarkable 35-year tradition: since it opened its doors in 1978,  100 percent of all students have been accepted into college after graduation.
Students in the current graduating class of the private school will be attending Howard University, Brown College, Penn State, University of Notre Dame and Bates University.
Ninety-one percent of the school's students pass Advanced Placement tests and they average 36 points above the national average on the Terra Nova standardized test. Students also score an average of a 24 on the ACT test, surpassing the national average of African-American student score of 17.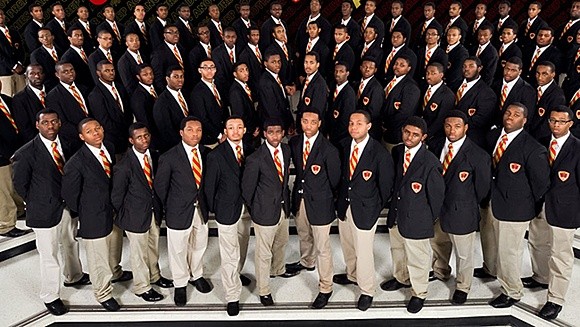 3. Urban Prep Academy
An all-male public school, Urban Prep of Chicago is the country's first charter high school for boys.
Urban Prep boasts a 100 percent college acceptance rate for students over the past four years, and graduates have received more than $6 million collectively in college scholarships and grants.
The school was opened in 2006 by Tim King, a Black educator and non-profit organizer, and a group of  Black education, business and civic leaders, with the intention of grooming successful men of color for a bright future.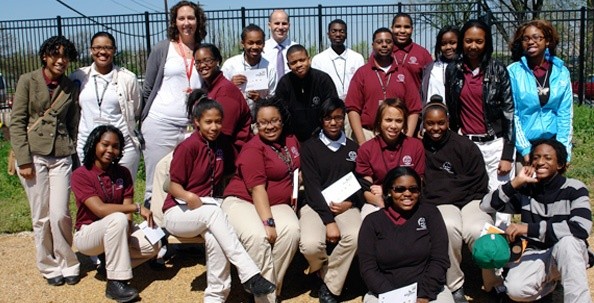 4. Thurgood Marshall Academy Public Charter High School
Thurgood Marshall Academy Public Charter High School is this year's highest performing non-selective high school in Washington, D.C.
One hundred percent of the 2013 graduating class received scholarships and financial aid, and the school has a 100 percent college acceptance rate since 2005. Eighty-seven percent of the students who have graduated since 2012 are still in college.
These students are no stranger to prestigious scholarships either. Collectively, students  have amassed 221 Gates Millennium Scholars scholarships, four Stephen J. Trachtenberg scholarships to George Washington University, and four Posse Scholars scholarships.
In 2013, the academy's students scored over 50 percentage points higher than neighboring schools in tests designed to measure academic proficiency.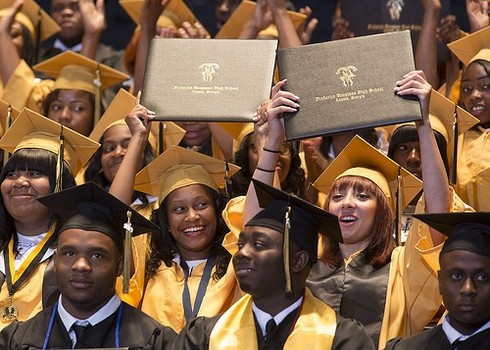 5. Frederick Douglass High School
Good education starts with good teachers. This is very much the case at Frederick Douglass High School in Atlanta, where Atlanta Families' Award for Excellence in Education recognized Corendis Hardy last October as an outstanding educator in the Atlanta Public School system.
Just as a teacher committed to her students would do, Hardy is using her prize money to fund a language enrichment program.
Students at Frederick Douglass High were recently chosen to partner with Georgia Institute of Technology students to create a bluetooth speakers prototype.
The Georgia Scholastic Press Association also ranked Frederick Douglass High's yearbook staff with two superior rankings in a competition comparing yearbooks throughout the country, making the 2013 yearbook the sixth such award earned by the school.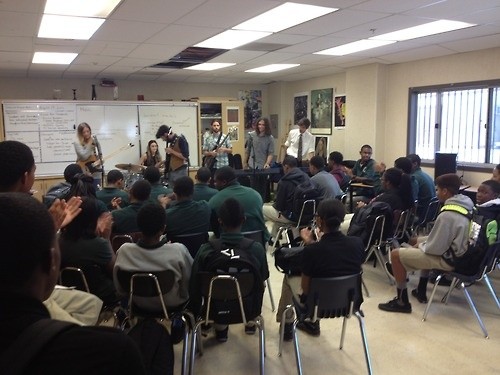 6. View Park Preparatory Accelerated Charter High School
Located in Los Angeles, View Park Preparatory Accelerated Charter High School is a member of the Inner City Education Foundation, which is known for providing a rigorous curriculum based in analytical writing and thinking. The schools also are committed to staying on the cutting edge of technology and education.
VPP consistently hosts events such as Alumni Day, The Black College Expo Experience and college prep summer programs.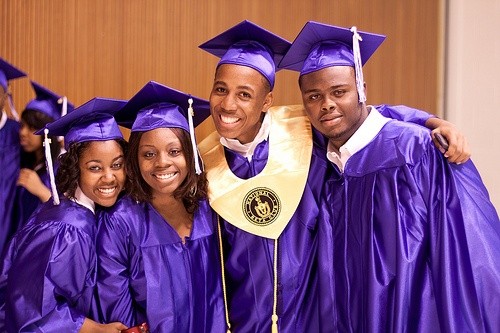 7. KIPP
KIPP is not one school — there are 141 of them. The Knowledge Is Power Program is a 20-state network of college prep charter schools dedicated to low-income families and minorities.
This program does not just talk about the importance of educating the youth in preparation for the future,  they have the statistics to back it up.
By the end of eighth grade, 96 percent of KIPP classes outperform neighboring schools in reading, and 92 percent in math. The high school maintains the precedent, claiming a 71 percent student body participation in Advanced Placement exams.
Ninety-three percent of KIPP students graduate from high school and 83 percent of them attend college.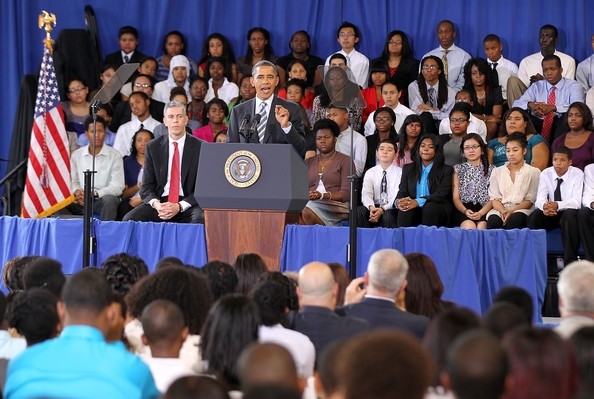 8. Benjamin Banneker Academic High School
When Benjamin Banneker Academic High School senior Avery Coffey was admitted to five of the eight Ivy League colleges, it demonstrated that there are not many areas in education where this Washington, D.C., school does not excel.
The school and its students have a superb track record that includes receiving grants from the Lemelson-MIT InvenTeam program to develop inventions. Three students in the 2013 graduating class received Stephen Joel Trachtenberg Scholarships to George Washington University, and in 2011 President Obama visited to deliver a speech on education.
Not only does the school maintain graduation and college acceptance rates at 100 percent, but its attendance rate is 99 percent. Banneker students also tested at 100 percent proficiency in math, 96 percent in reading and 98 percent in composition during the 2012-2013 school year.
Source: On The Black List