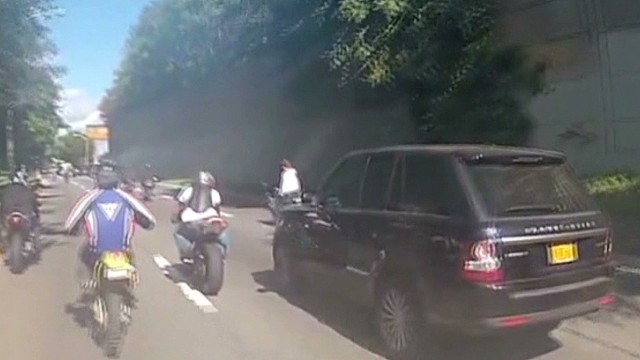 A grand jury indicted 11 bikers, including an undercover New York City police detective, in connection with a well-publicized clash with an SUV driver, according to the Friday indictment.
NYPD detective Wojceich Braszczok, was formally charged with gang assault, criminal mischief, riot and more in the 14-count indictment related to the September 29 altercation with SUV driver Alexander Lien.
Braszczok was off-duty at the time.
Footage of the incident recorded from a biker's helmet camera went viral after it was posted online.
Authorities say Alexander Lien was chased by bikers after he initially bumped one during a biker rally on September 29. When his SUV was surrounded by several bikers, Lien called 9-1-1, told police he feared for his life and drove off, running over bikers and critically injuring one.
Lien's wife and 2-year-old daughter were in the vehicle with him. Lien has not been charged.
The chase that followed ended in traffic. Police say Lien's windows were smashed; he was dragged out of the SUV and beaten. He was treated and released from a hospital.
Prosecutors say Braszczok is on video allegedly using his fist to bash in the rear window of Lien's SUV and kick it.